SEO for Reputation Management: 10 ways SEO influence online reputation management
SEO for reputation management
SEO is an incredibly powerful tool for online reputation management (ORM) and protection.
The reason is that a high ranking in search engine result pages (SERPs) can help bury negative content and articles about your company or brand.
Additionally, good SEO practices can help you build a positive online reputation, which can benefit your business.
It's important to note that online reputation is one of the greatest risks facing global companies today.
By using SEO strategies for reputation management, you can mitigate this risk and protect your business.
SEO is important
SEO is an important part of ORM. While it's one factor contributing to how your site appears in search results, it's not the only one. On January 4, 2022, Google alert announced updates to its core algorithm.
These changes can significantly impact how your site ranks in search results.
It's important to stay up-to-date on these changes and ensure your site complies with Google's guidelines.
Online reputation is one of the most important aspects of any business.
It can make or break a company. How consumers perceive your rank can influence your company on search engine marketing.
To ensure that your website appears as high as possible in SERPs, optimizing your website for search engines is important.
This includes using the correct keywords, creating quality content, and building links from other websites.
What is the role of SEO in online reputation management?
SEO is a critical part of any company's online reputation management strategy.
Companies can improve their visibility and public relations by building better ranking results. In turn, this will help to build your online reputation.
A key component of SEO is a high-authority domain website's link.
When you have links from authoritative websites, it helps improve your credibility and strengthens your online reputation.
Additionally, informative writing can earn backlinks from high-authority domain websites, which helps bolster your online reputation.
Here are some of the roles SEO play in online reputation management:
Creates strong brand recognition
Boosts your local SEO
Claim social profiles
Establish a presence on review sites
Build a content marketing strategy
Take immediate action to protect your brand name from negative content
Rank content that best satisfies user queries
Accentuate the positive and stifle the negative
Improve the online reputation of your clients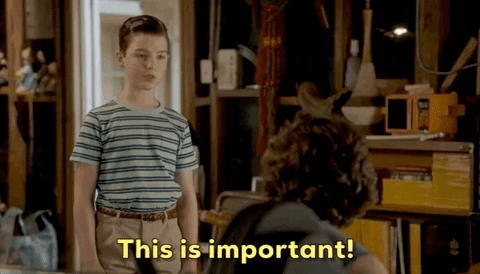 Why is SEO critical to online reputation management?
Online reviews have a big impact on consumers and businesses.
Your company's online reputation is important, so you should monitor the brand mention of your business.
SEO is the process of optimizing content to appear among the first search engine results.
Keywords and backlinks are two of the most important SEO tactics.
ORM is a proactive measure to help protect the brand's reputation.
ORM also involves monitoring for mentions that need addressing and repairing brand reputation damage when it occurs.
SEO for digital marketing
ORM is the act of addressing or mitigating SERPs.
The industry of ORM has been estimated to be a $5 billion market, and it will only grow in the future.
That's why it's important for businesses – large and small alike – to invest in SEO for their digital marketing campaigns.
We also offer call tracking, Google analytics services, and a wide range of other digital marketing solutions to help you meet your business goals.
10 benefits of SEO for reputation management
The reputation of a company is essential for its success and growth.
SEO reputation management can help protect and improve a company's reputation and brand image by utilizing effective search engine optimization techniques.
Below, we will outline ten benefits of SEO for reputation management that can help establish and maintain a positive online presence.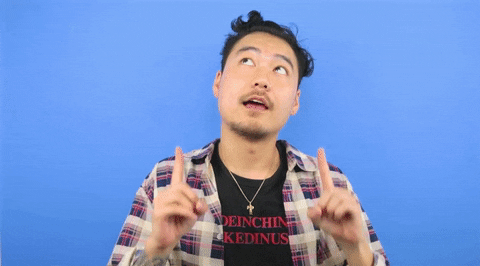 1. Increased search engine rankings
Search engine optimization (SEO) is optimizing elements of a website to improve its ranking in the Search Engine Results Pages (SERPs).
SEO involves structuring and refining the technical aspects of a site to feature the following:
certain keywords
titles
tags
Quality content is also key for SEO, as Google's algorithm punishes websites that use keyword stuffing and rewards those that create and share engaging educational content.
By optimizing a website's SEO, a business can improve its search engine rankings and increase its organic traffic, thus leading to more revenue.
2. Increased brand name recognition
SEO optimization can help increase brand recognition by improving brand visibility in search engine results pages (SERP).
Optimizing content for relevant keywords can help customers find your brand quickly and easily.
Additionally, working with a reputable agency specializing in an SEO strategy can have long-term ripple effects on the overall search performance of a website.
Finally, creating engaging content that demonstrates expertise can lead to better organic search results, helping to increase brand recognition.
3. Increased web traffic
Search engine optimization (SEO) helps increase web traffic by optimizing elements of a website to improve its ranking in the search engine results pages (SERPs).
SEO involves refining the technical aspects of a website, such as titles, tags, content, and keywords, to make it more relevant and authoritative for search engines.
Google is constantly updating its algorithms to reward websites with quality content rather than ones that rely on keyword stuffing and manipulation.
As a result, businesses are spending more than $80 billion in 2020 on SEO to improve their online presence and increase web traffic.
4. Increased social media engagement
SEO optimization can help increase social media engagement by taking control of as many associated profiles with your business as possible and optimizing them for the SERPs.
Additionally, you can increase your brand awareness and recognition by having a social account widget available for quick sharing, commenting through brand profiles on third-party websites, and linking to corporate social media profiles from other sites.
Furthermore, ensuring all profiles are up to date with accurate and complete information, along with amping up your linking, will help take up a large portion of the first page.
Finally, the more active you are on social media, your profile will likely appear on the first page of Google results.
5. Improved brand image
Search engine optimization (SEO) is an important part of online reputation management, as it helps to shape and control the narrative around your brand in the SERPs.
To ensure that potential customers get a positive impression of your brand when they search for it, apply SEO techniques such as:
optimizing your website
simplifying your navigation
optimizing web pages
fixing broken links
Images are another key element in online reputation management, as they can help your brand rank higher in SERPs and dominate the Knowledge Graph area for popular names.
Finally, avoiding keyword stuffing, and keeping your branding consistent across all platforms, can help ensure the best possible results for your brand.
6. Reduced negative online reviews
SEO optimization can suppress negative online reviews by improving the rankings of positive reviews and pages about your business.
Automated tools and hands-on strategies can help to make your brand shine online by curating and managing reviews, alerting you to negative reviews, and hiding them from potential customers.
Accentuating the positive and eliminating the negative is essential for local businesses, as Google considers your reviews in its ranking algorithm.
Therefore, it is important to take a proactive approach to online review management by soliciting positive reviews and responding to negative ones.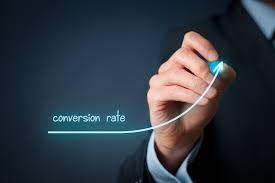 7. Increased conversion rates
SEO optimization can help increase conversions by improving the visibility and accuracy of content, targeting the right online audience, identifying and debunking SEO myths, and utilizing SEO for ABM strategies.
By focusing on quality content and engaging content, businesses can create SEO-rich content that will rank favorably with Google and establish credibility by linking to sources.
Additionally, creating comprehensive content that includes technical details and action steps can help boost SEO rankings, increasing the likelihood of organic traffic converting.
8. Increased brand authority
SEO optimization helps increase brand authority by improving content quality and creating authoritative backlinks.
It involves keyword research and optimizing web pages to ensure they are up-to-date and relevant to customers in the industry.
Additionally, it involves creating optimized social media profiles, sponsored ads, and professional videos and images.
Finally, it also involves responding courteously to reviews, comments, and messages to demonstrate credibility.
9. Improved Search Engine Result Pages (SERPs)
Search engine optimization (SEO) helps to improve SERPs by optimizing elements of your website to improve its ranking in the SERPs.
Optimizing for these SERP features involves implementing Schema.org markup on your homepage, getting listed at Wikidata.org and Wikipedia, optimizing Google Maps and My Business Page, and verifying your Social Media accounts.
These tactics are designed to help improve SERP rankings and ultimately increase traffic and revenue for your business.
10. Increased brand awareness
SEO optimization can help increase brand awareness by allowing businesses to control how they look in a branded search.
Utilizing PPC and SEO together can help businesses get more attention on Search Engine Results Pages and create a branded ad campaign to control how they look in a branded search.
This way, businesses can ensure that potential customers and partners will see the most representative information about their brand.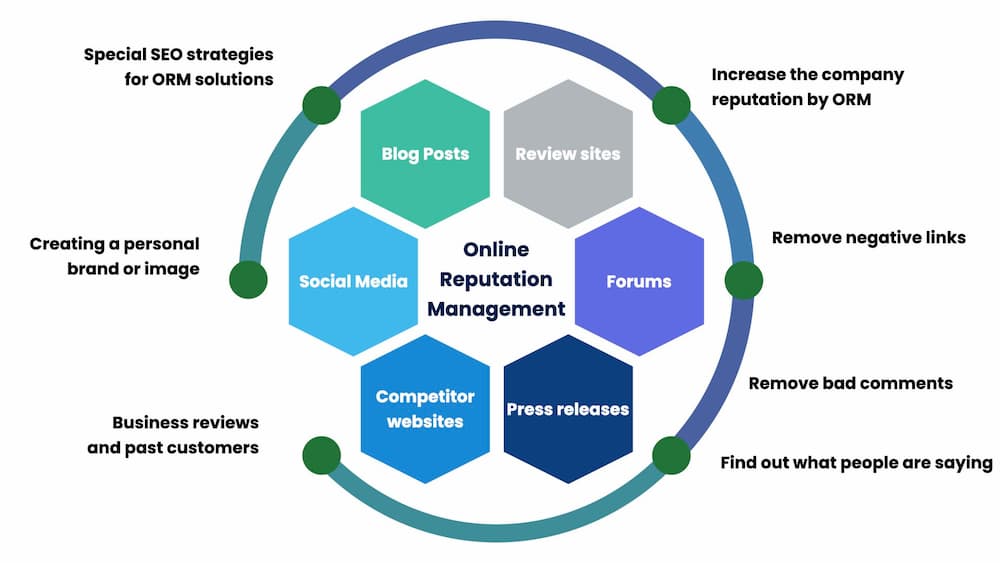 How to carry out SEO for online reputation management
SEO for online reputation management is a specialized and tricky field. The goal is to rank a brand term rather than the individual's name.
This way, even if the individual's name isn't unique, they will still control the negative search result. You must rank your website in positions two through five for your brand name to achieve this.
Additionally, ORM is the act of monitoring, addressing, or mitigating SERPs that contain negative information about a person or company.
ORM is a $5 billion industry, and SEO services are a much broader field that encompasses ORM.
Many businesses don't realize the importance of SEO until they experience a negative event that affects their SEO reputation.
It's important to have a comprehensive SEO strategy to combat negative press and ensure your website appears as the top result for relevant queries.
Control the front page
The brand should control the first five or so top-ranking results.
To do this, they must ensure that their website is well-optimized for search engines and uses the correct keywords.
Social media sites are authoritative and will rank highly for most branded search queries.
You can use review sites, industry comparison sites, and keyword research to identify the most popular Google queries that your page ranks for.
Assigning queries to pages is an important part of SEO, which must be done correctly to control a website's front page ranking position.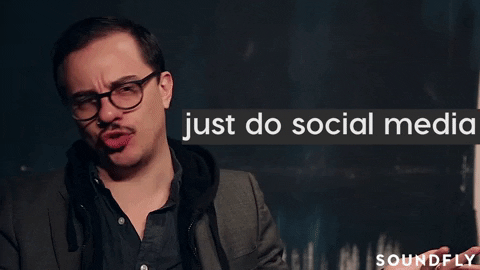 Be active on social media & review sites
There is a risk involved with setting yourself up on social media or review sites. You may not have an official Twitter handle, but that doesn't mean competitors won't be talking about your company online.
Always be active on social media and monitor online reviews to ensure you are getting positive reviews and negative feedback is addressed before it shows up on the front page of Google.
Search for keywords related to your business or target audience, and place relevant content on your website pages or email campaigns to improve SEO efforts.
Set up a Google My Business listing
Suppose you're looking to set up a Google My Business listing.
In that case, it's important to remember that the website that provides information about your business might be outdated and pulled from a listing on Google if it's not found on a GMB page. This could lead to poor ORM.
Google My Business allows businesses to promote their online presence and control the ranking of their organic search results. The brand should control top-ranking results, including SEO optimization, social media profiles, and online review sites.
Google has a free tool available for any business wishing to advertise on Google to boost their ORM efforts.
To get started with advertising on Google, follow these steps:
Claim your business name and verify your address in Search Console.
Add your product or service info to Merchant Center.
Set up campaign goals and target customers in Ads Manager.
Create your ad and choose how you'd like to show it.
Review your ads' performance in the Reports tab.
Google My Business posts are specific to your business's industry so that they will get more visibility on these searches.
To create engaging posts, adhere to Google's tips for creating engaging posts.
Google My Business lets you update your personal information to improve ORM.
To receive more customer attention, your profile must be updated with fresh photos, specials, and promotions."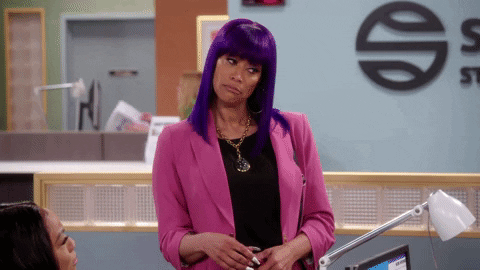 Create content around potentially negative keywords
When it comes to online reputation management SEO, you can't be afraid of potential negative keywords.
You should embrace them! Why? Because potential customers may search for these terms to get an idea of what others are saying about your brand.
If you're not ranking as the featured snippet for these queries, you're missing out on a valuable opportunity to control the narrative.
Make sure you rank as the featured snippet for any bad reviews or mentions of your company online.
This way, you can ensure that potential customers see your side of the story before they make up their minds.
Plus, it's great to show off your customer service skills!
Be newsworthy for the right reasons
One of the most important aspects of local SEO reputation management is being newsworthy for the right reasons.
You don't want to be in the headlines for a scandal or negative story, but you do want to be in the headlines for your accomplishments and positive contributions to your field.
Digital PR can help you achieve this goal by placing your story on reputable websites.
If enough people see positive stories about your brand, it will push down any negative content lurking on search engine results pages (SERPs).
Of course, this approach only works if you have a good story. So make sure you put your best foot forward and highlight your successes.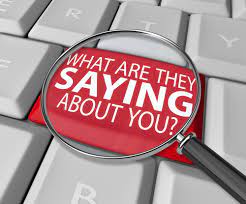 How can businesses monitor their online reputation?
There are some ways businesses can monitor their local SEO reputation.
One way is to use social media monitoring tools, which allow you to keep track of the buzz surrounding your brand on various social media platforms.
Another way is to document mentions of your brand online.
Does your brand reputation management include link building in SEO?
Brand reputation management should include link building in SEO. Link building can help to improve your brand's visibility and search engine rankings. It can also help to build trust and credibility with your audience.
There are a lot of misconceptions about SEO and its role in online reputation management. Some people believe they don't need to worry about their online reputation if they have good SEO.
However, this isn't the case. A good SEO reputation can help you manage your online reputation more effectively.
One of the ways businesses can monitor their SEO reputation is by monitoring their search result.
You're missing out on many potential customers if you're not in the top results for your brand or company name.
And if you're ranked lower than your competitors, it's even more important to take action to improve your ranking.
Private blog networks and auto-generated content don't provide any long-term value, despite the companies using them claiming otherwise.
The only way to achieve sustainable results is by building high-quality links from reputable websites.
This takes time and effort but is well worth it in the end.
How often should businesses update their website content to ensure good search engine ranking?
There is no definitive answer to this question.
However, businesses should generally aim to update their website content frequently to ensure good SEO ranking.
This means regularly adding new and relevant content, keeping an eye on any negative conversation happening around the brand, and addressing it quickly.
It's also important to note that once website content has been updated, it's necessary to monitor for new mentions or feedback on the update to ensure it is positive.
If not, control may be necessary.
Latest posts by Amanda Stanley
(see all)